Here in the greater West Los Angeles and West Hollywood area, where prices at the gas pump can sometimes be daunting, hybrid vehicles are hotter than ever. El Segundo drivers who want to save money, and reduce their vehicle's emissions, can choose from the growing number of hybrid models available.
While there may be several plug-in hybrids available for you to shop in the Marina Del Rey area, none of them have the same roomy, family-friendly, minivan style of the 2018 Chrysler Pacifica Hybrid minivan we have available at Santa Monica Chrysler Dodge Jeep Ram.
This model is the first-ever hybrid minivan. It gives environmentally-conscious, southern California families a fuel-sipping option that can carry the whole family, as well as all of their gear.
The 2018 Chrysler Pacifica Hybrid is the latest member of the groundbreaking Pacifica minivan model lineup, and it's as innovative and stylish as the original, gas-powered Chrysler Pacifica. Except, it has a state-of-the-art, plug-in hybrid powertrain under its hood.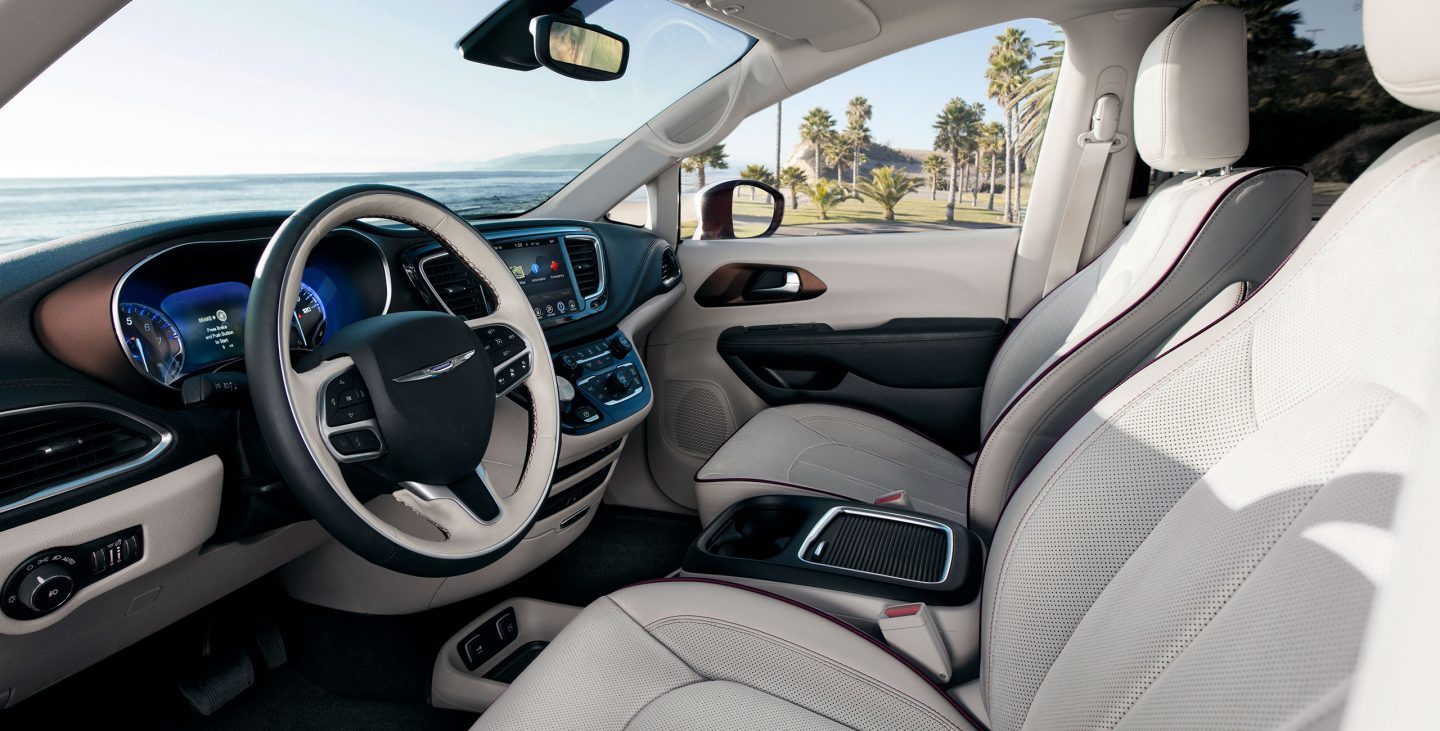 The 2018 Chrysler Pacifica Hybrid - Interior and Exterior Design
As with its gas-powered Chrysler Pacifica sibling, this hybrid version is an eye-catching model. It elevates the appearance of the traditional minivan with a sleek profile, sporty-looking frontend and grille, and easy-to-drive size.
In fact, other than the fact that it has two small doors instead of one (one for the gas tank and one for the plug-in feature), this hybrid model looks identical to its gas counterpart. It's a hybrid minivan, but it doesn't scream its hybrid status to the world with a different exterior style, the way some hybrid models do.
On the inside, the 2018 Chrysler Pacifica Hybrid is different from the original Pacifica in a couple of key areas. The reason behind these differences is the presence of the hybrid's large, under-body battery. Changes include:
A maximum seating capacity of seven, instead of eight for the gas Pacifica. This is because the electric battery makes it so that only captain's style chairs fit into the vehicle's second row, which reduces capacity when compare to a gas-powered Pacifica equipped with a bench-style second row.
This Pacifica model is not eligible for the Chrysler signature Stow n' Go storage seats either. This, again, is because of the battery pack, which can't accommodate the larger seats with built-in storage and fold-down capability.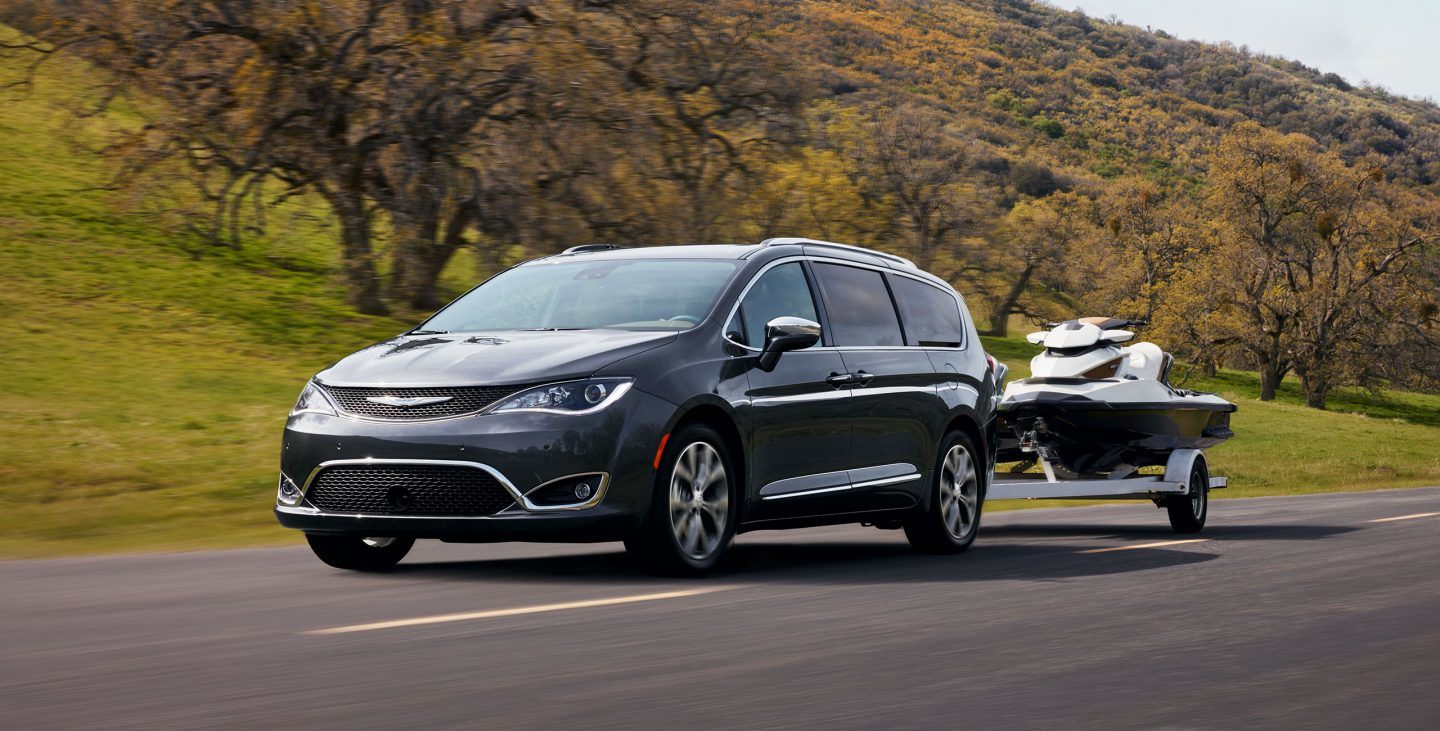 The 2018 Chrysler Pacifica Power and Performance
As a hybrid, this model gets around 33 mpg, which is an unheard-of rating for a minivan. But, that's not all. Since it's also equipped with a plug-in battery pack, that means this minivan also goes more than 30 miles on electric power alone, before it switches over to a gas-electric powertrain.
Every 2018 Chrysler Pacifica Hybrid is equipped with a 3.6-liter V6 engine that works in conjunction with two electric motors, for a total system output of 260 horsepower.
Standard and Available Features for the 2018 Chrysler Pacifica Hybrid
One of the most notable things about the original Chrysler Pacifica, is its sheer number of world-class features and industry-leading technologies. In that regard, the hybrid version continues the trend, offering many of the same, incredible features. Some are standard, while many are available as options, and many more come as you move up through the available trim levels.
Some favorites of Malibu drivers include:
In-vehicle vacuum system
Available entertainment system
Standard power-sliding rear doors
Standard three-zone automatic climate control
Shopping for the 2018 Chrysler Pacifica Hybrid near Beverly Hills
To learn more about the 2018 Chrysler Pacifica Hybrid, including how it can help you preserve the planet and environment for your children and your grandchildren, stop by and visit us in person. Our sales team can answer all of your questions about this remarkable vehicle, and set you up with a test drive of your own on Santa Monica roads.